I've had a baby! Please allow a longer lead time for packages to ship. (See the blog for additional info.)
Our apologies for the inconvenience! Please email me: laura@prismeradesign.com with any immediate questions.

New Arrivals

Shop Jewelry

Gifts + More

Custom Gallery

Sale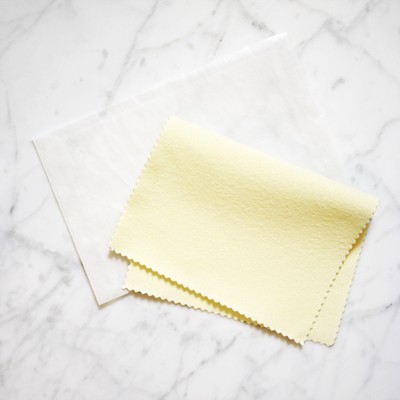 Large Polishing Cloth
These non-staining and easy-to-use cloths remove tarnish from precious metals, brass and copper. Just rub the surface with a bit of pressure to polish and keep each piece sparkling! The cloths contain special cleansing agents and non-scratching micro-abrasives.
Safely cleans gold, silver, brass, copper, jewelry, flatware, hardwood, and many other surfaces. Works until the cloth is completely darkened.
Size: 7" x 5"
Brand: Sunshine® Cloth
Made in Japan.
Please note: Cloth is not washable.
This item ships for free! If this is the only item you are purchasing, it will be mailed using USPS First Class in a stamped envelope, unless otherwise requested.
Free shipping on orders over $75
© 2006-2017 Prismera Design.
site by Aeolidia